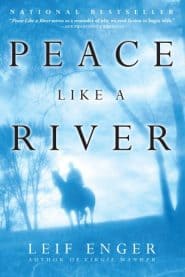 I analyzed why Peace Like a River tops my list of all time favorites and scoured other favorites for similar qualities. 
This list is divided up into three categories: young protagonists, everyman heroes and justice and honor themes. 
Books like Peace Like a River — My Top Picks
This Tender Land by William Kent Krueger
The Virginian by Owen Wister
To Kill a Mockingbird by Harper Lee
Hannah Coulter by Wendell Berry
Freckles by Gene Stratton Porter
A Tree Grows in Brooklyn by Betty Smith
This list is full of titles of beautiful literary fiction because that characterizes Peace Like a River.
I didn't include Enger's other novels in this list because, in my humble opinion, they don't hold a candle to Peace Like a River. Like many things in life, there's a mystical element in all masterpieces that happen when all the pieces of the puzzle are present. It's elusive and can't be easily replicated, no matter how the master novelists try to teach it.  
(Note: Book cover pictures are Amazon affiliate links. Clicking through to purchase benefits this site.)
Young Protagonists
The narrator of Peace Like a River is 11 year old Rueben Land. We see the world through his eyes. His older brother, Davy, and younger sister, Swede, and his father have their parts to play, but the story revolves around what he experiences first hand. 
There's certainly is a lack of control and power experienced by 11 year olds. But, they can also impact the course of history in their own ways. 
The first section explores the power of young protagonists.
This Tender Land by William Kent Krueger
"The unforgettable story of four orphans who travel the Mississippi River on a life-changing odyssey during the Great Depression."—from Amazon
The story is told through Odie O'Banion's adolescent eyes. 
It's his quest for home, family and the meaning of life. Along for the ride are his brother Albert and his friends Mose and Emmy. 
The human experience is more complicated than most novelists are able to express. There's the complexity of human nature and relationships, the complexity of our belief system and how our experience influences our beliefs. I feel like This Tender Land wrestled with that complexity and won. 
It doesn't downplay the true depravity of man. It has lots of plot twists.
The novelist deals with the most delicate of subjects in an inoffensive way. 
There was one element of the book I didn't care for, but it wasn't enough to ruin it for me. 
It reminded me of Peace Like a River. I'll want to read it again and again. 
A Tree Grows in Brooklyn by Betty Smith
"The story of young, sensitive, and idealistic Francie Nolan and her bittersweet formative years in the slums of Williamsburg has enchanted and inspired millions of readers for more than sixty years. By turns overwhelming, sublime, heartbreaking, and uplifting, the daily experiences of the unforgettable Nolans are raw with honesty and tenderly threaded with family connectedness — in a work of literary art that brilliantly captures a unique time and place as well as incredibly rich moments of universal experience. "–Goodreads
Rightly labeled a literary work of art.  Francie Nolan develops the grit and humanity she needs to survive her tumultuous life.
Anne of Green Gables by L.M. Montgomery
Anne is a heroine universally loved by girls and remembered fondly by women. Of course, so much of the charm is Anne herself, spunky, competitive, fiercely loyal, throughly human. 
But some of it is the wistfulness of small town community where the gossips whisper and pass judgment and the sons and daughters marry their neighbors and hearts are broken never to see healing through the decades. 
The Chosen by Chaim Potok
Chaim Potok brilliantly captures the internal struggles of two boys growing up in Jewish homes in New York City beginning in the 40s. 
There's clashes with their fathers, wrestling with what they believe about faith, community, family and their own future. Potak so vividly paints the world he grew up in, it feels like you were dropped onto the sizzling New York City asphalt yourself.
It contains less a plot and more a journey. 
The War That Saved My Life  by Kimberly Brubaker Bradley
"Nine-year-old Ada has never left her one-room apartment. Her mother is too humiliated by Ada's twisted foot to let her outside. So when her little brother Jamie is shipped out of London to escape the war, Ada doesn't waste a minute—she sneaks out to join him.
So begins a new adventure of Ada, and for Susan Smith, the woman who is forced to take the two kids in. As Ada teaches herself to ride a pony, learns to read, and watches for German spies, she begins to trust Susan—and Susan begins to love Ada and Jamie. But in the end, will their bond be enough to hold them together through wartime? Or will Ada and her brother fall back into the cruel hands of their mother?" — from GoodReads
Great story.
The Chronicles of Narnia by C.S. Lewis
"Fantastic creatures, heroic deeds, epic battles in the war between good and evil, and unforgettable adventures come together in this world where magic meets reality, which has been enchanting readers of all ages for over sixty years. The Chronicles of Narnia has transcended the fantasy genre to become a part of the canon of classic literature."– from GoodReads
In my opinion, it doesn't get any better than Lewis' Chronicles of Narnia for middle grade.
But, not only middle grade. Narnia appeals to every age.
Lewis tells compelling stories with an amazing economy of words.  He weaves timeless truths into  tales that highlight the classic conflict between good and evil.
I can't recommend them highly enough.
A Place to Hang the Moon by Kate Albus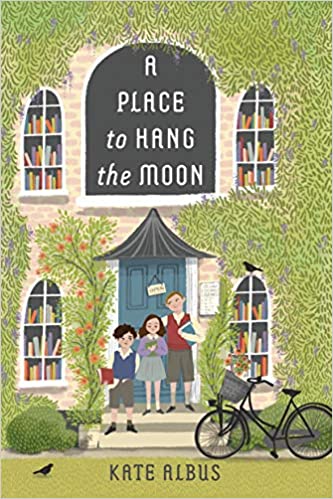 A Place to Hang the Moon by Kate Albus (Amazon affiliate link)
William, Edmund and Anna are siblings who are evacuated from London to the country during World War II. Their deep desire for home and family drive the story, even while they aim to be family to each other. 
A love of literature is integral to the story and revisiting my childhood favorites was fun. There's echoes of Narnia throughout as well as nods to other classic children's lit.  
I wish I hadn't read the story synopsis before reading this sweet, heart-warming story.
Don't read the reviews. Just dive in. 
It's a quick easy read. Perfect for stressful times when a straight forward, uncomplicated plot meets the need. 
Everyman Hero Themes
Reuben Land is an everyman hero. He's not nobility, not from a rich or powerful or influential family. Not a war hero. Not from New York or LA. Small town mid western problems and values are part of his DNA. The choices to stand up for principles and beliefs are the family's strength. Small choices count as well as larger ones.
The Hobbit by J.R.R.Tolkien
One of literature's ultimate hero's journeys, the story of Bilbo Baggins resonates deeply, even if you're not a homebody. Bilbo certainly wasn't out looking for adventure, because hobbits are fond of regular meals and the comforts of home. 
But, if there's a wizard and a dragon, a quest, danger, travel companions to help and hinder, a magic ring and some treasure, it all adds up to a satisfying tale with uncanny parallels to life as we know it. 
A Man Called Ove by Fredrik Backman
I can't remember the last time a novel made me cry.  This one did.
Ove is near the end of his life, but this novel takes us back to his family, his first love and his losses. It is a bittersweet exploration of what really matters in relationships and what gets in the way.
Love, friendship, community and social awkwardness.  It's the recipe for a great novel.
It demonstrates in brilliant colors that no man is an island.
Gilead by Marilyn Robinson
Gilead is the story of a pastor who married late in life and has a seven year old that he won't see grow up. The novel is a series of letters to his son. 
He tells of his life, his friends and neighbors, meeting and marrying his mother.
The action is slow moving, and, yet, it's not necessarily character driven, either. Just a reflective account of life and faith in small town Iowa.
Hannah Coulter by Wendell Berry
Hannah Coulter takes the panoramic view of a person's life, the progression of a lifetime. 
Sometimes when we sit down to a novel, we are looking for perspective, to find meaning for the daily grind. We need to see that what we do day after day matters. Hannah Coulter gives us a clue. For many women, all those meals cooked, all the time serving and caring others adds up to a lifetime of meaning. 
Then there's the small town, rural community. I think our deep longing for community resonates with what happens in small, rural towns where people know each other and care for each other, where lives intertwine in romance, conflict, partnership, friendship and commerce. And no man lives as an island, no matter how solitary they choose to live their lives.
Finally, there's the strong female protagonist in Hannah Coulter. You might not realize she's strong. Not at first. She's the type of woman that is the glue of a community. Keeping her family together. Working the long hours to grow, process and prepare the food that keeps the whole engine running. She tends to the sick, stands by her man and brings up her children. She's the backbone, the unsung hero. Being unassuming makes it hard to recognize her as strong.
Check out more books like Hannah Coulter.
 Jewel by Bret Lott
"It is 1943 in the backwoods of Mississippi. In the land of honeysuckle and wild grapevine, Jewel Hilburn and her husband Leston – whose love for his wife is the surest comfort she's ever known – are truly blessed. They have five fine children who embrace the world as though it were a sumptuous table set for a feast; and when Brenda Kay is born, Jewel gives thanks for yet another healthy baby, last-born and most welcome.
JEWEL is the story of how quickly a life can change; how, like lightning, an unforseen event can illuminate our lives and set us on a course without reason or compass."– Goodreads
Jewel fights the odds of prejudice and ignorance with a mother's fierce love.
"Bret Lott has created one of the finest and most indomitable heroines of contemporary American fiction."
Beautifully crafted. A pleasure to read.
Justice and Honor Themes
Most humans believe in right and wrong and our sense of justice is offended when wrong goes unpunished. Some cultures and eras have been more protective of the honor of girls and women. Men defend and protect women and children against those who have baser designs. There's a certain satisfaction that comes when our innate sense of justice is realized. 
To Kill a Mockingbird by Harper Lee
I made it 49 years without reading To Kill a Mockingbird. I'm glad I didn't wait any longer.
Scout and her brother have a front row seat to watch their attorney father stand for his principles against prejudice in the South. 
So glad I finally made time for this classic. 
I'm not sure if I'll tackle the sequel or not, since reviews were mixed and many negative.
The Virginian by Owen Wister
Owen Wister has been credited with starting the genre of the Western, with his story of the unnamed cowboy, the Virginian. 
Wister explores the justice of the newly settle West, the relationships, the quest for man to build their own kingdoms and fence them. The country was captivated by the tales of the people who lived untamed lives on untamed land. 
Pride and Prejudice by Jane Austen
It's hard not to like Lizzie Bennet. She speaks her mind, she's unfazed by social regulations, she's fiercely loyal. And no one can articulate matters of the heart like Jane Austen. 
Five girls growing up in one household is certainly a recipe for matchmaking dilemmas.
Certainly other Austen titles have won hearts, but Pride and Prejudice often is recognized as standing above the rest. 
Freckles by Gene Stratton-Porter
Another of my top picks is the story of Freckles, a handicapped boy who found his purpose and meaning living close to the earth. 
Butterflies, birds, trees and plants. These are all Gene Straton Porter's domain and she is a master at making them as much a part of the story as the humans and animals themselves. Clearly a student of human nature as well as a naturalist, she is able to capture the emotions and relationships in clear detail that is a joy to read. 
The Sun Does Shine by Anthony Ray Hinton
What would it be like to be convicted of a murder you didn't commit and then spend 30 years on death row?
Amazingly, Anthony Ray Hinton is not an angry, bitter man even though it would be the logical reaction for an extreme injustice.
What's it like for the men sitting on death row?  How would you feel?  What would you think?  How do you make it every day?
This is an inside look and, incredibly, a hopeful look.
The only book on this list that isn't fiction The Sun Does Shine helps us ponder the true nature of justice.
**********************
If you're interested in more read alike book lists, see Books Like Hannah Coulter and More Books like Anne of Green Gables.