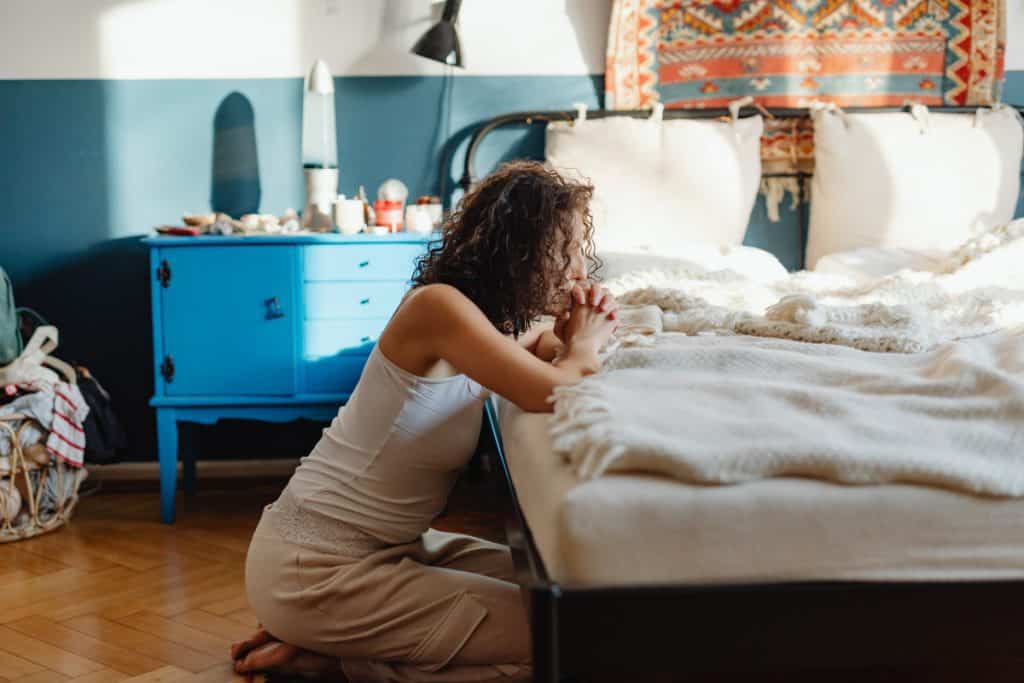 There's nothing like seeing our kids in a desperate situation that triggers anxiety and drives us to our knees in prayer. Worry can be the impetus that jump starts our prayer life.
The battle for the hearts and minds of our kids is fierce. We need weapons that will work and we need to know how to use them.  
"The battle for our children's lives is waged on our knees."

Stormie Omartian, The Power of a Praying Parent
How can you start praying for your kids?
1. Do Research
2. Name What Matters
3. Plan Logistics
4. Make Time
5. Start Small
6. Decide What to Pray
7. Make Adjustments
"Prayer is acknowledging and experiencing the  presence of God and inviting His presence into our lives and circumstances. It's seeking the presence of God and releasing the power of God which gives us the means to overcome any problem."
Stormie Omartian, The Power of a Praying Parent 
1. Do Research
Start with two great resources: the MomsinPrayer.org website and Stormie Omartian's book The Power of a Praying Parent.
For more than a decade I have been part of a prayer group for moms praying for their children. I knew I needed help praying for my kids. The accountability of showing up once a week plus the having a structure to follow has helped immeasurably. 
We have seen God answer prayers. It has strengthened our faith as well as engaged the heavenly forces on behalf of our kids. 
Our group follows the structure outlined by Moms in Prayer. On their website, there's a way to search to see if there are any moms prayer groups in your area. 
Stormie Omaritan has written a series of books on prayer. The Power of a Praying Parent offers encouragement, practical helps for prayer and personal examples from Stormie's life. 
The Power of a Praying Parent (Amazon affiliate link. Clicking through to purchase supports this site.)
2. Name What Matters
I'm indebted to Kendra Adachi of The Lazy Genius for the concept of Name What Matters. We have unlimited options in the ways to spend our limited resources. The way to decide how we use them is to determine what's most important. Then we focus on those priorities. 
List what could matter. Then decide what does matter and, finally, what matters most. 
You've already determined that praying matters. What matters about praying? Being consistent? Accountability? Praying biblically? Praying in faith? Replacing your will with God's?
Hearing from God? Seeking His face and waiting for His response? Peace and comfort for yourself in the midst of difficult circumstances?  
3. Plan Logistics
Match your praying to your personality, circumstances and season.
Do you prefer written or verbal prayers? Alone or with others? 
Contemplative prayer might be more appealing that corporate prayer. Journaling prayers might fit you better than praying out loud. Long hours of prayer might work for your schedule or short cries for help might be all that you can manage. 
God is certainly compassionate to our individual circumstances and attuned to how He made us to best communicate with Him. 
Join a prayer group or start a prayer group.
Start a prayer journal.
The Bible talks about secret prayer as well. Praying alone in your closet is important, too.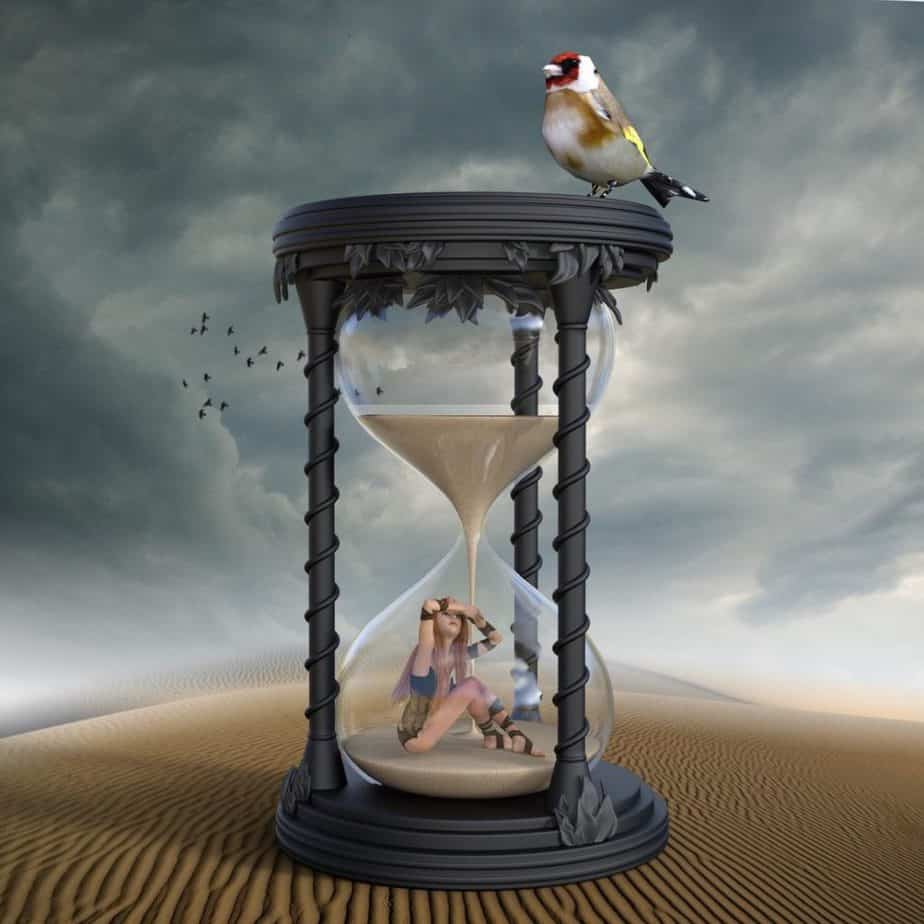 4. Make Time 
How can you pray for your kids when your schedule is overflowing and you don't have enough time for the urgent things now?
There is a way. 
Multi-tasking is one solution. Do double duty: pray during exercise time, during commutes, lunch hour or baby's nap time. 
Another approach is re-arranging your schedule. If praying is important, then schedule it.
Yes, getting up earlier is an option. But it might not be the best option. 
Analyze your daily, weekly and annual rhythms.
If journaling your prayers is the best way to commune with God, you might be looking for quiet interludes— maybe when everyone's at work and school is the best time. 
If you have a supportive network, plan a personal retreat as a time to get away to focus on spiritual disciplines. 
Pray at night when you can't sleep. 
Pray with your kids at mealtimes, bedtimes or driving to school.
5. Start small
Sometimes in life there's a place for sweeping change, but when building new habits to endure small and consistent often works better. 
You could include a short prayer in birthday or Christmas cards.
If you're crafty, create your own prayer prompts from scripture verses anything from post its to wall decor.
Set aside 5 minutes a day or 15 minutes a week dedicated solely to prayer. 
6. Decide what to pray
The list of what to pray for your kids is endless. 
Pray for their salvation.
If they haven't already taken the step to accept the free gift of eternal life, then pray for their eyes to be open to the truth and a softened heart to God's initiative towards them. 
Pray for their protection, health and safety.
Pray for their sleep and dreams.
My mom used to sing a song to us as kids about God putting angels around our beds when we slept and thoughts of Jesus in our heads. It's a good reminder that children often deal with fears and anxious or negative thoughts at night. Praying for God's protection at night defeats the enemies' attacks during a vulnerable time. 
Pray for their friends.
Who your children choose as friends is critical to development. Good friends mean a good life. Bad friends lead to a bad life. Almost certainly their future spouse will start out as a friend. One more good reason to pray for their friends. 
Pray for their friends and future spouse.
Pray scripture.
Praying scripture is one of the easiest ways to pray in God's will. Of course, a good understanding and interpretation of what specific scriptures mean is important as is understanding the context of what specific passages are referring to. Some things we can be certain about that God wants for our kids. We can pray boldly for those things. 
MomsinPrayer has a good list of specific areas and scriptures to pray for your kids. 
Pray promises for them.
Make lists covering the details of your child's life to cover in prayer.
God can certainly answer general prayers, but specific prayers can get specific answers. 
7. Make adjustments
Accept that this will be a life long pursuit.
Keep tweaking the strategy. Keep working on your two way communication with Him. 
Keep looking for God's work in your life and the lives of your kids.