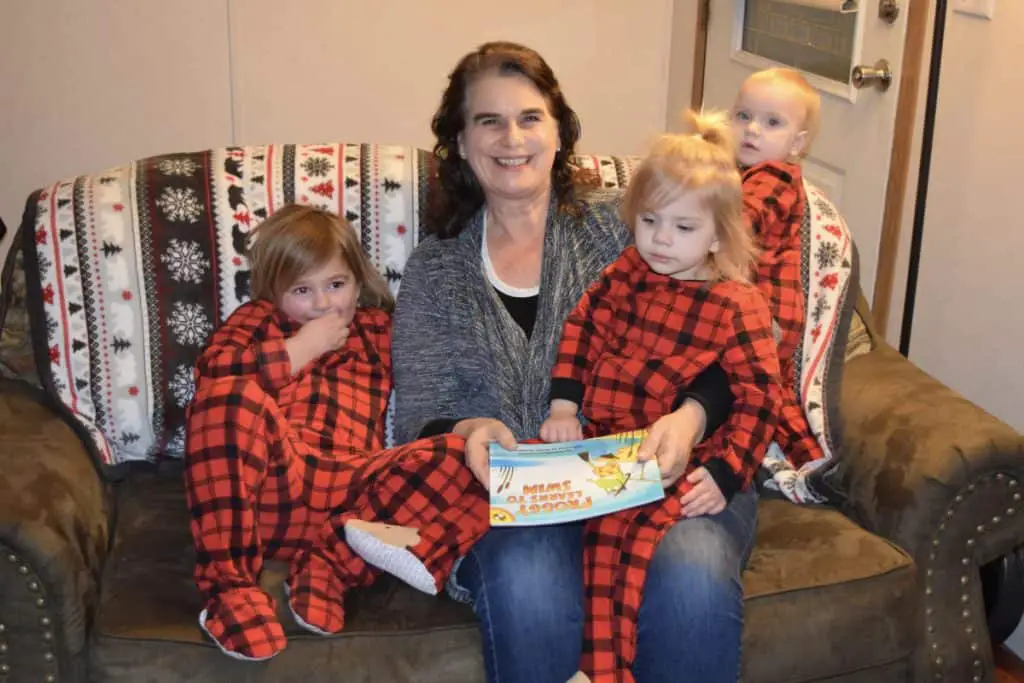 The beauty of reading to children and grandchildren is that you can revisit favorites from your past and discover new favorites. 
(Note: The pictures of book covers are Amazon affiliate links. If you click through and purchase a percentage will benefit this site.)
Best Bedtime Picture Books to Read at Naptime
For many reasons, bedtime might not be the best time for read alouds. Maybe the responsible adults are too tired or they're working at bedtime or the family schedule is too insane in the evenings. Whatever the reason, reading at nap time (or afternoon quiet time) could be the best alternative. 
The Napping House by Don Wood
Pancakes, Pancakes by Eric Carle
Eric Carle uses his unique artistic style to tell the story of a boy who wants a pancake for breakfast.
First he must track down each ingredient from threshed wheat to milk from the cow. 
The simple progression from field to table is fascinating and as oddly satisfying as a pancake with strawberry jam on top. 
Harold and the Purple Crayon by Crockett Johnson
Harold and his purple crayon is a timeless story.
Wielding his crayon, Harold creates the world around him, adventuring and solving problems as he goes. 
Harold's world represents the possibilities of imagination. 
To me, it also speaks of the idea that we can create our own lives. That we posses within ourselves the ability create the environment around us, to choose the ending to our story. 
Click, Clack, Moo, Cows that Type by Doreen Cronin
Farmer Brown has a problem. 
His cows aren't happy and they express their displeasure via typed messages. 
The improbability of the situation makes it endearing. 
A simple, amusing story sure to please ages three and up. 
Best Bedtime Picture Books to Read on Audio
Sometimes the best option for bedtime reading is an audio book.  This could be an audio book that kids listen to alone or with adults—maybe coming home in the car from evening events. Don't forget that audiobooks can be checked out from the library. You don't have to own them.                                                             
A Bear Called Paddington by Michael Bond
Good ole Paddington has been charming kids for a long time.
Zoey and Sassafras
The Complete Tales of Beatrix Potter
The Tale of Peter Rabbit by Beatrix Potter
For more than a century, Beatrix Potter books have delighted children.
They are just as delightful today as they were a century ago.
Peter Rabbit lives with his mother and siblings, Flopsy, Mopsy and Cotton tail.
Unlike his siblings, he is not obedient. Maybe that's what makes him so endearing. 
Best Bedtime Picture Books in Series                                                                    
Novelty and familiarity form a delicate balance when it comes to reading to kids. If the adults in the room are tired of reading books repeatedly, books that are part of a series might meet the need for a new storyline while holding on to predictable characters and structures. Put the library to work for a stack of books that you don't have to own.
The Little Blue Truck by Alice Schertle
I love The Little Blue Truck for it's message about friendship and community. The truth is, we need each other. There comes a point in everyone's life when you need help. At that point, you need someone you can call. You also need to be willing to help other people. Everyone needs their network, their community of support. 
Other books in the series explore other themes.
Llama Llama Books by Anna Dewdney
The Llama Llama books have a good rhyme, tell a simple story and have beautiful illustrations.
Llama Llama, Gram and Grandpa is when Little Llama spends the night at his grandparents' house but forgets his fuzzy Llama.
Froggy Books by Jonathan London
There's many books in the Froggy series with themes that explore family, friendship, everyday activities and emotions.
Mercy Watson to the Rescue by Kate DiCamillo
Mercy Watson is a pig who lives with Mr. and Mrs. Watson and is tucked into bed every night with lullabies. She's in love with toast with a great deal of butter. My grand daughter and I are in love with her. 
In the house next to them on Deckawoo Drive lives their opinionated neighbor, Eugenia Lincoln, thinks pigs belong on farms, not in houses. 
Quirky characters and simple plot lines make this six book series a delight for all ages. 
My favorite quote comes from the first book. "What would we do without Mercy?" Indeed. 
Best Bedtime Picture Books for Dads and Grandpas to Read                    
I have a unproven, sneaky suspicion that most picture books are written for women to read to kids. Adults are the forgotten target audience of picture books. The secret to reading to kids is the Venn Diagram. Only read books that fall in the overlap of the circles of books they love and books you love. Here's a list for guys to love. 
George and Martha by James Marshall
George and Martha books follows the ups and downs of two best friends. Engaging stories that illustrate the elements of friendship.
Hello Ninja by N. D. Wilson
Perfect for kids just graduating from board books, Hello Ninja has sparse text and captivating artwork.
The Very Cranky Bear by Nick Bland
Every tired parent can relate to the cranky bear who just wants to get some sleep. Kindness and friendship win the day.
Frog and Toad by Arnold Lobel
More than just friendship, Frog and Toad stories introduce character qualities and interaction with our world.
Bluey Books
My grandkids' love for the Bluey series on Disney got me hooked. The Mum, Dad and two puppies are funny, relatable and positive role models.
Best Bedtime Picture Books for Moms and Grandmas to Read   
Although there's certainly books that men and women like to read to kids, some will be more appealing to Moms and Grandmas.   
The joy of reading to children depends so much on mutual enjoyment of the child and the adult. So, the best books have to be rereadable, the ones that can be read hundreds of times and still capture the imagination of both the child and the adult. 
Switch out the books as often as you need to in order to keep both audiences happy. 
Lola Dutch by Sarah and Kenneth Wright
Lola Dutch is a girl with many passions and interests. 
She flits from one to another with energy and excitement. The world is her oyster. 
Bear, Pig, Crane and Gator are her partners in crime, as well as caretakers. I love her enthusiasm for life and her many and varied passions. 
I'm just waiting for someone to make a Lola Dutch plush toy I can give to my grand daughter. 
Corduroy by Don Freeman
I think that the heart of this book, the reason it's touched so many people for so long is it articulates one of our greatest human needs, the need for belonging. God sets the solitary in families. We need to belong to someone. We all need to be part of a family. We need to be connected to other humans. We have to be able to describe that relationship. Spouse. Friend. Parent. Child. Aunt. Grandma. 
When we see Corduroy's longing for home and family and Lisa's desire to take him home, to accept him and make him part of her family, it's heart-warming. We can identify with that deep longing and feel so satisfied when it's met. 
Bread and Jam for Frances by Russell and Lillian Hoban
I like the Frances books. Russell and Lillian Hoban are able to describe what matters to kids in an engaging way. Frances is a badger who has all the problems and joys of little humans. 
Bread and Jam for Frances tells the story of when Frances refuses to expand her palate, and sticks to only one food—bread and jam. 
The funny little songs and poems she makes up are catchy and engaging. 
Fancy Nancy by Jane O'Connor
Fancy Nancy books and the animated series featured on Disney feature a girl in love with glamour. Great for expanding English (and French) vocabulary and compelling characters with real life problems.
Olivia by Ian Falconer
Olivia is a whimsical pig who loves ballet, the opera and getting into trouble.
If you want more tips and book recommendations for older kids, read Best Family Read Alouds and Where to Start
Looking for digital resources? 23 Best Free Online Books for Kids