I read biography and memoir because I'm fascinated by human nature. I want to understand what makes people tick. Maybe if I can understand people better I can understand myself better. And, if I understand myself better, I'll be happier. 
Some people have fascinating lives. How did they survive? How did they succeed? If they can do it, maybe I can too. I can borrow their courage. I can learn from them.
Biography and memoir is a testament to the human spirit and God's grace. Life is difficult and some people have it harder than others. 
When we pull back the curtain to see behind the scenes, we glimpse what makes us all human, what connects us. After all, no man is an island.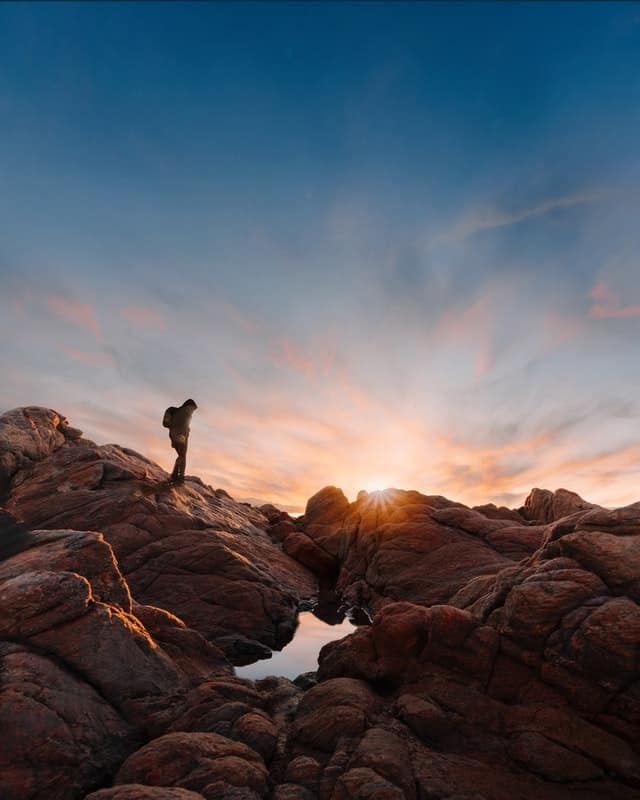 My top picks in Christian Biography and Memoir
This Beautiful Truth
Seeking Allah, Finding Jesus
The Hiding Place
Unbroken
Blue Like Jazz
(Note: Book covers in this list are Amazon affiliate links, meaning if you click through and purchase a small percentage will support this site.)
I divided this list into three parts: the intriguing, the incredible and the inspiring. Sometimes we're just curious and want to learn more about the inner workings of fascinating people. Other times we need to borrow the courage of those who have gone before, to be inspired by their lives. Then, sometimes we just need an incredible story that only an incredible God could have orchestrated. Each one has it's place.
Intriguing Christian Biographies and Memoirs
This Beautiful Truth Sarah Clarkson
I was first drawn to This Beautiful Truth by curiosity to read an insider's look at OCD. I knew Sarah would write beautifully and articulately and she did. Not only with beauty, but with transparency and insight. 
I did come to a better understanding of OCD. I'm still curious about root causes. Maybe that's a mystery we'll never solve.  
The most poignant reflection was her thoughts that she was too broken to ever be a wife and mother. I think everyone can relate to that. 
We understand ourselves better by getting to know people who know themselves well. Sarah opens the door. 
Blue Like Jazz by Donald Miller
Blue Like Jazz is reminiscent of an Anne Lamott memoir.  They're both off the charts in honesty, transparency and authenticity.  We identify with those inner insecurities that we can't even admit to ourselves, much less to others, committing them to black and white and hurling them to the world.
I've read Donald Miller's memoir several times. I have also read Scary Close, which is somewhat of a sequel, but it doesn't have the same punch as Blue Like Jazz.  Growing up fatherless is an underlying theme of Blue Like Jazz.  By the time Scary Close was written, Miller has resolved many of his emotional issues and experienced a lot of healing.  So, it's not driven by the same pain.
I believe writing in itself is therapeutic.  As is sharing your story.  I heard Miller recently talk about the desire people have to be heard and seen and known.  He's been there, done that and now has no more need to be seen and heard and known.  He's heading a successful company now called StoryBrand that helps businesses tell their story.
Seeking Allah, Finding Jesus by Nabeel Qureshi
In 2017 I wrote 55 book reviews for my blog. The best book I read that year was Seeking Allah, Finding Jesus by Nabeel Qureshi. I heard him speak at my daughter's graduation from Biola University in December of 2016. At that time he had been diagnosed with stomach cancer, which took his life in September of 2017. 
If you don't know much about him, here's an overview of Nabeel's life and impact. 
I loved the account of the raw, treacherous journey that Nabeel Qureshi took to find faith in Jesus. The sacrifices he made, the intellectual, emotional and relational barriers that kept him from finding faith in Jesus and the story of overcoming those barriers.
Statistics are one thing. One person's story is something else altogether. What difference can one person's story make?
Why do we need to know Nabeel's story? There are millions of devout Muslims on the planet. If we understand Nabeel's story, we come closer to understanding the Muslim mindset.
Understanding opens the door to greater compassion. We share the same humanity. Our desires and dreams are common to the human experience.
If you're interested in more compelling biographies or Christian apologetics, read my post Books Like Seeking Allah, Finding Jesus.
Gay Girl, Good God by Jackie Hill Perry
Jackie Hill Perry is a spoken word poet, writer and hip hop artist. 
She used to be a lesbian. This is the story of her conversion to Christianity. 
It's our story, too, because sexual orientation doesn't define you. She was a sinner saved by grace, just like every other believer who has accepted the free gift of salvation. 
I appreciated her frankness, transparency and clarity. 
Homosexuality in the church is a polarizing issue, but Jackie Hill Perry is not out to be divisive. On the contrary. She points out what we have in common: sin, grace, salvation. 
Where the Light Fell by Philip Yancey
Philip Yancey lost his father to polio as a young child. He and his brother were grew up with their mother in the South immersed in legalistic churches. 
Every person in the world evaluates what they were taught as kids. They accept or reject it. 
In Philip's case, he was able to sift through fallacies he was taught and seek out the core truths of Christianity to embrace. 
Although I'm not technically in the same generation, I could relate to a lot of the church culture I knew as a child. 
It's also interesting to ponder about how the family stories we hear and tell shape our self-esteem and identity. When those stories are challenged or re-written, it can shake us to the core. 
Incredible Christian Biographies and Memoirs
The Hiding Place by Corrie ten Boom
The ten Boom family takes their Christian faith seriously.  They believe the Jews are God's Chosen People and risk their lives to protect them.
Holland hides Jews from the Germans during World War II.  Corrie ten Boom's incredible true story of espionage, imprisonment and forgiveness.
They continue to trust God in spite of horrific circumstances and they see His hand at work.
Unbroken by Laura Hillenbrand
Unbroken tells the story of Louis Zamperini, Olympic runner and World War II soldier.
Louis Zamperini was a fast runner, but running was only the beginning. 
The perseverance and resilience Zamperini displayed in the face the multiple titanic challenges is an inspiration.
Knowing his background and family intensifies the story.
The final resolution is satisfying and heart warming.
Aside from the story, the writing is a work of art.
Find more books like Unbroken here.
Through Gates of Splendor by Elisabeth Elliot
Five missionary men were martyred in Ecuador in 1956. 
Elisabeth Elliot, one of the widows, tells their stories. 
Each one knew the dangers of the mission field. Each one willingly gave their lives before it was taken. 
This book is a clear reminder of counting the cost and complete surrender.
The Insanity of God by Nik Ripkin with Gregg Lewis
by Nik Ripken with Gregg Lewis
Nik and Ruth Ripken (not their real names) left Kentucky and moved with their family to Somlia to serve God.  They encountered a shocking world of spiritual warfare and the persecution of Christians.  
Nik Ripken pulls back the curtain to this world. 
Believers who are imprisoned and tortured and martyred for their faith.  Those who sing to Jesus and can't resist sharing him with others, no matter the price. 
Human life is not valued.  Women and children are not valued.  Freedoms and dignity are not valued.  All stemming from a world view so foreign it is difficult even to conceive. 
They have since interviewed 600 believers in 60 countries to give voice to their stories. 
These are their stories and Nik Ripken and Gregg Lewis share them so well. 
The Heavenly Man by Brother Yun and Paul Hattaway
Brother Yun's story highlights the incredible religious persecution of Christians in China.
The verses of scripture they cling to are not the same ones that are familiar to us because they live a different reality.  
It's good to have that world opened up to us and to spend some time thinking about it. 
Christians throughout history have been imprisoned and tortured and persecuted and martyred for their faith. The fact that it's still happening today often doesn't impact us. 
Inspiring Christian Biographies and Memoirs
Gifted Hands by Ben Carson
Ben Carson and his brother grew up in a single parent home in Detroit.
Ben credits his mother for the impact on his life that resulted in all of them breaking out of the poverty culture.
She valued education, discipline, the importance of reading and making wise decisions in the use of her resources.
In turn, Ben came to see poverty as a temporary state.  He could see the way out.  He developed a vision for his life.  He eventually attained some of life's greatest successes as a pediatric neurosurgeon.
Sweet Like Jasmine by Bonnie Gray
Bonnie Gray grew up in San Francisco's Chinatown as a Chinese American navigating two worlds. 
Her story intrigued me because the of the difficulty of engaging with American culture while belonging to an ethnic subculture. I have some background here having lived in different cultures as the minority and operating primarily in subcultures. 
There were some unexpected aspects of her story that caught me off guard. 
Life is difficult. The pain of childhood is real and it comes in many different forms. 
I think it's helpful to know and understand how different cultures work, especially in regards to family relationships. What's expected and what is praised and punished.
Ultimately, though, Bonnie's story is a redemption story that transcends cultures. God rescued her and helped her create an identity as a citizen of heaven.
One Thousand Gifts by Ann Voskamp
Every person in the world knows pain and heartache.  And every person can number their blessings.
Ann Voskamp challenges us to be intentional about looking for and expressing gratitude.  It colors my thinking to this day.
I understand that her poetic prose doesn't appeal to everyone.  Grammar Geeks beware.  But the message is universal and important.
Forgiving What You Can't Forget by Lysa Terkuerst
There's only a short list of themes that are applicable to every human on the planet. 
Forgiveness is one. 
If you've lived longer than 5 years, surely there's someone you need to forgive. 
Constructing a theology of personal forgiveness ranks as a top critical life skill. 
Lysa Terkuerst has a black belt in it. 
She's been through the deep waters. She's lived it. She's also studied the subject incessantly in the Bible and lived to tell about it. 
*************
And that's the list. Intriguing, incredible and inspiring.