I love a brilliantly  written novel inspired by true events. It's been so fun to stumble across quite a few in this category over the last couple of years.  Some of these books have made it onto other lists and some are new to me, but all are five star reads for me.
(Note: This post contains affiliate links. At no extra cost to you a percentage of your purchase will go to support this site.) 
The Tattooist of Auschwitz by Heather Morris
Just when we thought all the stories of the Holocaust had been told, another emerges.
In the midst of the horror comes a story of survival and hope. The Hiding Place is always my go-to recommendation for World War II and Holocaust stories.  This one adds another dimension.
Light shines brightest in the dark.
 I Was Anatasia by Ariel Lawhon
The world is enthralled by the story of Anastasia Romanov.  So much of it shrouded in mystery. What is fact, what is fiction, what is myth and what is legend?  We are drawn to the mystery, to the possibilities, to the tragedy and to the pathos of this story.
Ariel Lawhorn created a masterpiece, weaving all the strands of the story into one, cohesive, intriguing narrative.
Captivating till the end.
 Becoming Mrs. Lewis by Patti Callahan
C.S. Lewis has always been one of my favorite authors and The Chronicles of Narnia the pinnacle in children's literature, in my opinion. Even though I knew the basic facts of the love story between Lewis and Joy Davidman, Becoming Mrs.  Lewis fleshed out the story in a probable narrative of their relationship.
I came to see her as an unsung hero in Lewis' life.
There's nothing like an inside peek at the life of one of the world's greatest writers.
 We Were the Lucky Ones
by Georgia Hunter
"Inspired by the incredible true story of one Jewish family separated at the start of World War II, determined to survive—and to reunite—We Were the Lucky Ones is a tribute to the triumph of hope and love against all odds." —Amazon
The Kurcs were from Radom, Poland, but in the course of the war, three generations are spread throughout Europe and beyond, fleeing the German regime.
I am in awe of this story. It is a light in a dark time and highlights the triumph of love, family and the will to survive.
Code Girls: The Untold Story of the American Women Code Breakers of World War II by Liza Mundy
Thousands of women worked on breaking codes during WWII. The government began by recruiting and training at women's colleges, sending secret letters to students in the fall of their senior year.
Then they started recruiting teachers.
The work took special skills, and they didn't always know what they were.
Intercepting and understanding enemy communication proved to be the critical strategy for the allies to win the war.
Thousands of American women working secretly to break enemy codes turned the tide.
This is the untold story of those women.
I Shall Be Near to You by Erin Lindsay McCabe
 "Rosetta doesn't want her new husband, Jeremiah, to enlist, but he joins up, hoping to make enough money that they'll be able to afford their own farm someday. When Jeremiah leaves, Rosetta decides her true place is by his side, no matter what that means, and follows him into war.
Rich with historical details and inspired by the many women who fought in the Civil War while disguised as men, I Shall Be Near To You is a courageous adventure, a woman's search for meaning and individuality, and a poignant story of enduring love."– from Amazon
I liked learning about a piece of little known history during the Civil War. It's hard to even imagine life in those circumstances.
Well written fictionalized account highlighting the stories of real women who fought in the Civil War disguised as men.
The Widows of Malabar Hill by Sujata Massey
 Based of the life of the first female lawyer in Bombay.
Not only does this fictional account weave a riveting tale, it highlights the culture and customs of 1920's India.
Limited educational opportunities, arranged marriages, gender segregation and inequalities.  These were real obstacles.
Navigating that world and winning is a real feat.
Girl Waits With Gun by Amy Stewart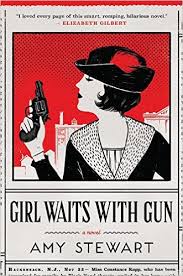 Fascinating novelized account of the country's first female sheriff.
Three sisters living alone in the country manage to get on the wrong side of some shady characters.  Tell how they defend themselves, throw in some family secrets and end up with the a female sheriff.  Well played.
Stewart writes in an engaging style that kept me flipping pages.
I was glad to see the author follows the sisters' story in another book.
What are you reading this month?