It's true.
There's a switch that flips when you become a Grandma.
Baby toys, clothes and books jump into my shopping cart now that I had no problem resisting before.
In a lot of ways, grand parenting feels familiar, too. Like starting over again at the beginning of parenting. But, this time around there's the advantage of experience, perspective and being well-rested.
How to Grandma long distance
My first grand baby, Caroline, is about to turn one.
She lives nearby and we get a lot of time with her.
My grandson far away is still sleeping and kicking inside his mama.
I've been brainstorming ways to "Grandma" long distance.
Since I spent the last ten years of my life as a bookseller, sending books seems like the logical solution.
I'm intrigued and inspired by Dolly Parton's Imagination Library Project.  It started out in her home county, but it's grown across her home state, and across the country. Every month every child ages 0-5 receives a book in the mail addressed to them.
I can do that.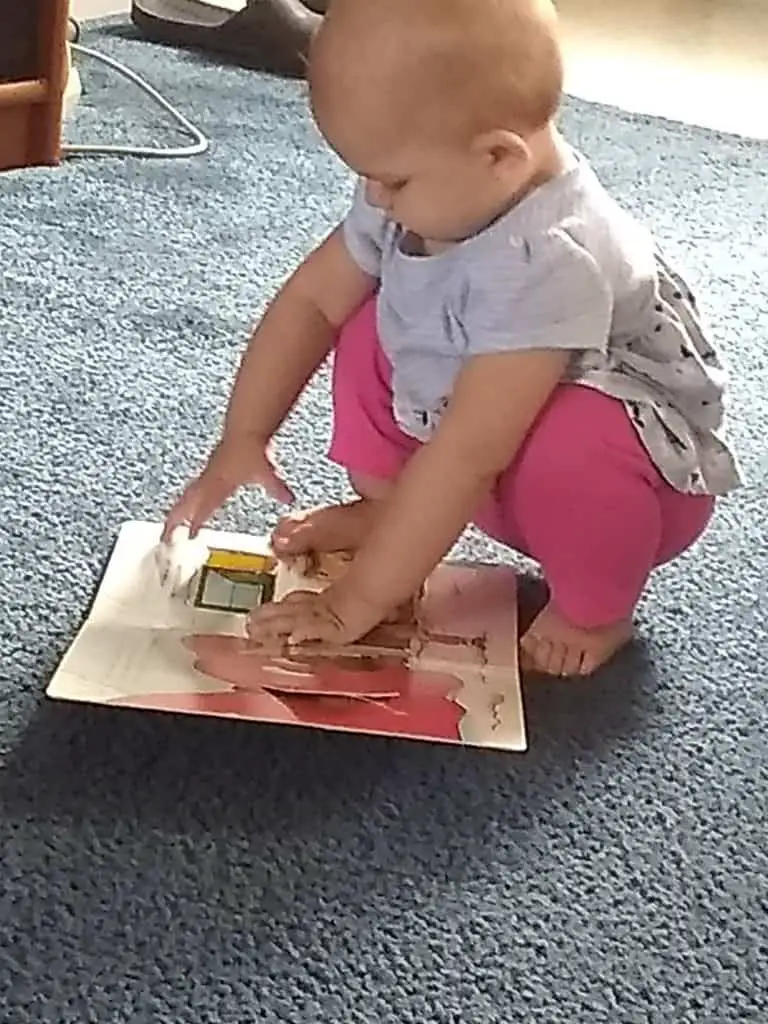 "Books are delicious"
Besides pulling from my years at the bookstore, I got some good picks from Sarah Mackenzie of the Read Aloud Revival.
She says when we're reading to babies, we're helping them associate books with delight and affection.
"Books are delicious" Anyone who interacts with books and babies knows that's true.
But not all baby books work for baby's first year. So, I whittled down my list, looking for books that would be visually, orally and tactically appealing to the youngest audience, just waking up to the world.
I also kept in mind that baby books have to please two audiences, the adult and the baby. These top picks win with both.
(Note: All links are affiliate links which means at no extra cost to you, a percentage of your purchase goes to support this site.)
Who's Knees Are These?
By Jabari Asim
Even before babies interact much with the world, a rhyme can captivate.
This one is fun to read.
.
by Anna Dewdney
Another rhyming board book that pleasing both to the eye and the ear.
.
.
.
Taggies Thank You Prayer

A cloth book that is as much fun to play with as it is to read.
Soft, fuzzy cover.
.
Look Look
by Peter Linenthal

A black and white and red board book for babies who are just beginning to focus their visual attention.
.
.
Peek a Who?
by Nina Laden

Simple, fast paced book for babies who are beginning to interact and notice things. Nice surprise at the end.
.
.
Indestructibles Baby Peekaboo
by Kate Merritt

All the indestructibles books are made from incredible rip proof material that babies can't damage.
.
.
Touch and Feel Baby Animals

Good tactile stimulation. And who can resist baby animals?
.
.
Good Night Moon
by Margaret Wise Brown

The classic board book that has entertained generations.
.
.
Dear Zoo
By Rod Campbell

Another classic, this one with flaps to lift up, that will delight and entertain.
.
.
Who says Quack?

Babies love animals and learning the sounds they make.
.
.
Yummy Yucky
by Leslie Patricelli
Everything goes into baby's mouth, even things that shouldn't be there. A humorous look at what's good and what's not.
.
The Pudgy Book of Mother Goose
Illustrated by Richard Walz

Small, easy to hold board book that contains classic Mother Goose rhymes.
.
.
Who's Knees Are These?
Llama Llama Red Pajama
Taggies Thank You Prayer
Look Look
Peek a Who?
Indestructibles Baby Peekaboo
Touch and Feel Baby Animals
Good Night Moon
Dear Zoo
Who says Quack?
Yummy Yucky
Chunky Mother Goose
That's my list for baby's first year!
What are your top picks for the youngest readers?