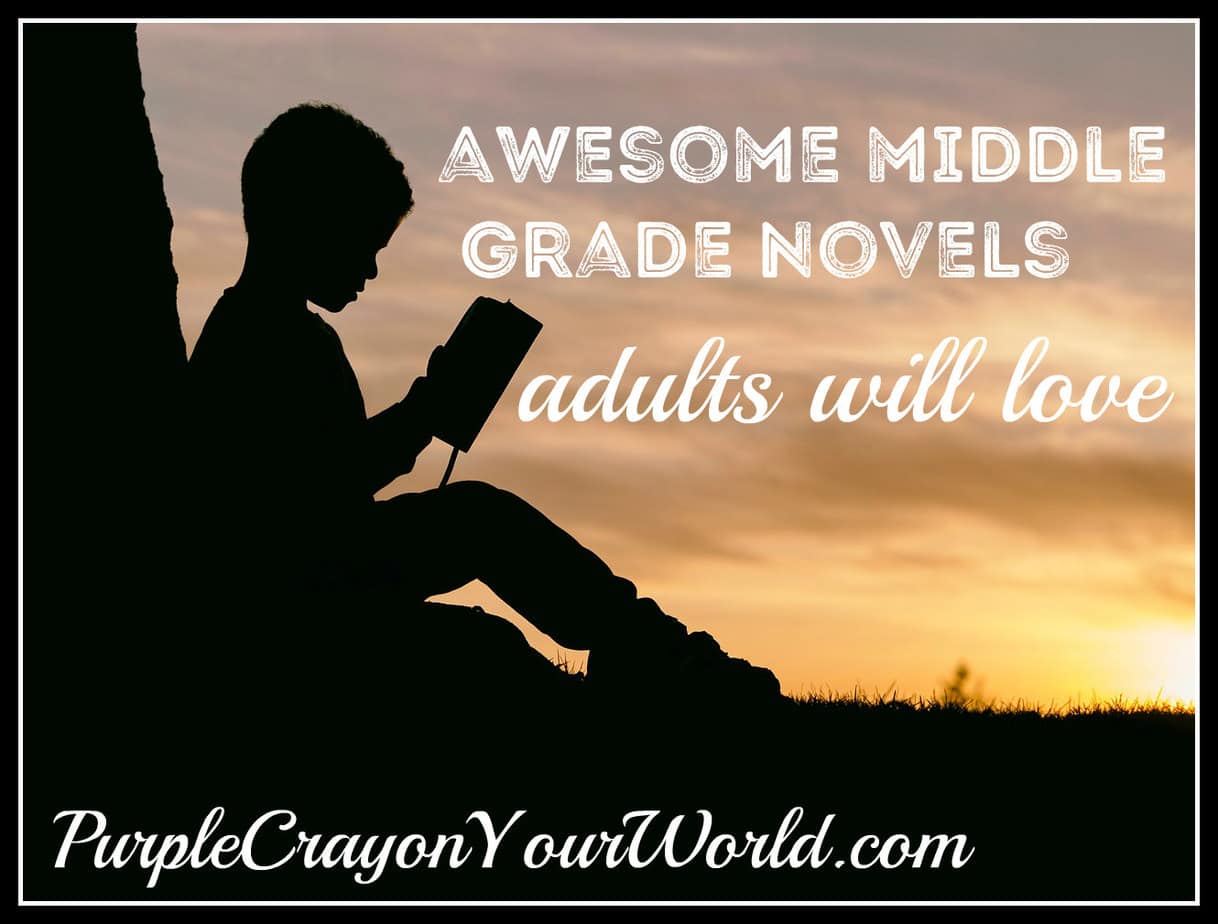 I've been trying to figure out why I've been drawn to middle grade novels recently.
I believe there are multiple reasons, but the primary one boils down to one word: stress.
Middle grade novels offers an easy read.  The plot and characters are not complex.
Nevertheless, they take on some of the weightier issues of life.  Some do it incredibly well.
The middle grades are a great age for shaping opinions, values, attitudes and beliefs.
With my new interest in this genre, I read my first Harry Potter book.  I didn't include it in this list because a) why would Harry Potter books need more press?  and b) although I can understand the cult following, I've read better middle grade.
Linking up with Modern Mrs Darcy's Quick Lit.
On to the books!
(Note: This post contains affiliate links.  At no extra cost to you a percentage of your purchase goes to support this site.)
The War That Saved My Life  by Kimberly Brubaker Bradley
"Nine-year-old Ada has never left her one-room apartment. Her mother is too humiliated by Ada's twisted foot to let her outside. So when her little brother Jamie is shipped out of London to escape the war, Ada doesn't waste a minute—she sneaks out to join him.
So begins a new adventure of Ada, and for Susan Smith, the woman who is forced to take the two kids in. As Ada teaches herself to ride a pony, learns to read, and watches for German spies, she begins to trust Susan—and Susan begins to love Ada and Jamie. But in the end, will their bond be enough to hold them together through wartime? Or will Ada and her brother fall back into the cruel hands of their mother?" — from GoodReads
Great story.
Okay for Now by Gary Schmidt
"In this companion novel to The Wednesday Wars, Doug struggles to be more than the "skinny thug" that some people think him to be. He finds an unlikely ally in Lil Spicer, who gives him the strength to endure an abusive father, the suspicions of a town, and the return of his oldest brother, forever scarred, from Vietnam. Schmidt expertly weaves multiple themes of loss and recovery in a story teeming with distinctive, unusual characters and invaluable lessons about love, creativity, and survival."– from Amazon
Excellent book. LOVED it. 
Deals with so many important themes.
Abusive parent. War veterans. Learning disabilities. Young love. Poverty. Predjudice.
There's just so much there. And the story is so satisfying.
You know how it is? When a story is satisfying? When all the right people win in the end and the rest get what they deserve?
Rain, Reign by Ann M. Martin
"Rose Howard has Asperger's syndrome, and an obsession with homonyms (even her name is a homonym). She gave her dog Rain a name with two homonyms (Reign, Rein), which, according to Rose's rules of homonyms, is very special. Rain was a lost dog Rose's father brought home. Rose and Rain are practically inseparable. And they are often home alone, as Rose's father spends most evenings at a bar, and doesn't have much patience for his special-needs daughter.
Just as a storm hits town, Rain goes missing. Rose's father shouldn't have let Rain out. Now Rose has to find her dog, even if it means leaving her routines and safe places to search. Rose will find Rain, but so will Rain's original owners." — from GoodReads
Good story. The characters were believable and endearing. It was a good, inside look at autism. You couldn't help but root for the heroine.
If that story doesn't create empathy, I don't know what will.
The Boy on the Porch by Sharon Creech
It deals with the joy and pain and challenges of fostering parenting.
A childless couple wake up one day to find a strange boy on their porch. Although there's no way to contact his parents, they learn that he's been left there on purpose.
This novel explores what it's like to love a child that's not yours, the heartache it brings and why you should do it anyway.
The Penderwicks by Jeanne Birdsall
5 Stars!  I LOVE, LOVE, LOVE this whimsical story. (That's a lotta love.)  I'm thinking about reading it to the teens in my carpool, since I don't have any little kids to read it too.  I'll be giving it to my nieces and nephews, too, when I get the chance.
Four motherless girls on vacation with their father.  Their romps with pets, neighbors and each other:  a simple, but satisfying plot.
I loved the uplifting, engaging characters.  Real heroes.  Great values.   Whimsical.
The Princess Academy by Shannon Hale
What if you lived in a small kingdom where the prince chooses his bride from the graduates of the Princess Academy?
What if you had the chance for an education that would never be possible otherwise?
I loved this middle grade novel for telling a tale of what could be, the power of knowledge, friendships and courage.
One of my favorite parts of Princess Academy was how they snuck in principles of Commerce and Negotiation. It was fun how that played out.
There were a few weird and whimsical twists, but every fairy tale needs a little magic.
 Buy now from Amazon
The Best Bad Luck I Ever Had by Kirsten Levine
"The last thing Harry 'Dit' Sims expects when Emma Walker comes to town is to become friends. Proper -talking, brainy Emma doesn't play baseball or fish too well, but she sure makes Dit think, especially about the differences between black and white. But soon Dit is thinking about a whole lot more when the town barber, who is black, is put on trial for a terrible crime. Together Dit and Emma come up with a daring plan to save him from the unthinkable. Set in 1917 and inspired by the author's true family history, this is the poignant story of a remarkable friendship and the perils of small-town justice."– from GoodReads
Alabama in 1917.  A friendship between a white boy and a black girl.  What could go wrong?
I loved the details of this time period.  Add that to a good plot and likable characters and we have a winner.
The Chronicles of Narnia by C.S. Lewis
"Fantastic creatures, heroic deeds, epic battles in the war between good and evil, and unforgettable adventures come together in this world where magic meets reality, which has been enchanting readers of all ages for over sixty years. The Chronicles of Narnia has transcended the fantasy genre to become a part of the canon of classic literature."– from GoodReads
In my opinion, it doesn't get any better than Lewis' Chronicles of Narnia for middle grade.
But, not only middle grade. Narnia appeals to every age.
Lewis tells compelling stories with an amazing economy of words.  He weaves timeless truths into  tales that highlight the classic conflict between good and evil.
I can't recommend them highly enough.
Have you read any middle grade novels that you loved?  Let me know in comments.