June makes me think of strawberries.  Mostly because Pete likes them and I often make a strawberry pie for his June birthday.
Even though the summer schedule means I'm working a little less, it also means my college kids are home and more people in general in and out for meals.  Less time for reading.  More time for making family memories.
Linking up with Modern Mrs Darcy's Quick Lit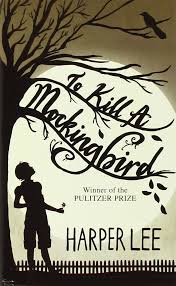 Buy now from Amazon
To Kill a Mockingbird by Harper Lee
I made it 49 years without reading To Kill a Mockingbird, but the time had come.
I'm glad I finally made time for this classic.  It's a good study on prejudice and the power of great sacrifice to live your principles.  Human nature is fickle and sometimes we can use that to our advantage.
Not sure if I'll tackle the sequel or not, since reviews were mixed and many negative.
 Buy now from Amazon
When Breath Becomes Air by Paul Kalanithi
This memior was written by a man diagnosed with cancer.  That's the kind of news that changes your perspective in life.
Kalanith writes in a clear, concise style.  What makes the book extraordinary is the author wrestles with the meaning of life even before he's diagnosed with cancer.  It gives the reader pause in the very best ways.
Here's my takeaway:  we make plans for our lives based on how long we think we have left to live.  We make different decisions when we think we're going to live 40 years more or 10 or 1.
Also:  at the end of life, our close relationships are what matter most.  But, running a close second is a life dedicated to meaningful work and making an impact on our world in some way.  I've believed for a long time that having meaningful work was a critical element for the human psyche, but I've never seen it so clearly before, especially in light of the importance of close relationships at the end of life.
I also enjoyed Kalanitrh's stories of his experiences in medical school.  Interesting to see the behind the scenes snapshots of a surgeon in training.
 Buy now from Amazon
The Guernsey Literary and Potato Peel Pie Society by Mary Ann Shaffer and Annie Barrows
So many reviewers raved about this book, I finally decided I had to check it out.  Plus, it had such an unusual title, my curiosity was piqued.
I'd have to say it was worth all the hype.
I guess I didn't read enough reviews to realize that it's set in Europe in the years immediately following World War II.
The beginning moves a little slowly as almost the entire story is told in letters back and forth between the many characters.  Juliet is a writer who hears about the Literary Society's unorthodox  beginning.  She is intrigued and unearths the entire story, getting to know the members initially through letters.
I loved the human drama for the very reason war stories are so popular:  adverse circumstances causes the heroes to rise to the top.
Heart-warming, satisfying read.
The Lovely Bones
I'm very late to the party on this one, since the book was published in 2002 and the movie version released in 2009.  But, I wanted to find out for myself what the buzz was about.
The Lovely Bones is told from the point of view of a 14-year-old girl who has been murdered. She describes what heaven is like for her and keeps tabs on friends and family on earth.
The premise of the book is intriguing.  The novel is well-written.  Some depictions are too graphic for my taste.  But, my biggest problem with the book was the way it portrayed immorality.
The problem isn't that immorality is included in the story. Even the Bible isn't G-rated.  Lots of stories there that don't make it into the children's Bible Story books for good reason.  But, the lines of morality are fairly clear.  When they are crossed, judgment follows. The immorality is neither normalized or glorified.
I've come to believe that the way the immorality is depicted is the critical issue.  Is it normalized?  Is it glorified? I believe the moral slide we see in our culture can be traced in our literature and movies, though it's probably a chicken or egg issue.
Interestingly enough, there's criminal behavior portrayed in The Lovely Bones that is repulsive. Everyone is repulsed.  There's immorality that is accepted due to extreme circumstances.  And there is immorality that is glorified. This is where I have a problem.
I believe strongly that immorality shouldn't be normalized and shouldn't be glorified.
I stumbled upon a post on how to find clean books to read that is full of resources for books rated for content.
Now, more than ever, I'm on a quest for wholesome, brilliantly written novels.  I know they're out there.  Just gotta find em.
 Buy now from Amazon
I read The Shack years ago, before I was blogging book reviews, so I thought I'd add it here, on a slow month.
I keep a copy of The Shack on the shelf at the bookstore, and it always sells, so I know there's still new readers out there.
Here's my one-sentence summary about The Shack:  It's not a good place to get your theology about God, but it is a good read for challenging and stretching your image of God.
When The Shack was released, it touched a nerve and became a bestseller for this very reason: it wrestled with one of the biggest stumbling blocks for people of faith, namely, how can a loving, all-powerful God allow horrific things to happen to the innocent?
The Shack is told from the point of view of a father whose little girl is missing.  As the truth becomes known, the father loses his way in life until he encounters some unusual personifications of God that help him reassess his faith.
What are you reading this month?
(Disclosure: this post contains affiliate links.  At no extra cost to you, a percentage of your purchase goes to support this site.)