Wow.  What a month.
I stepped into my sister's shoes and cared for her four daughters (ages 2 to 12) while she and her husband led a team to Israel.
I explored why I'm directionally challenged and what helps.
I went to Peru to catch up with my hubby who had already been in South America for a week.  It was a ministry trip that didn't go as planned.  Our laptop got stolen, I missed my plane in Miami, massive flooding in Peru meant changes in itinerary and an unplanned visit in LA became one of the highlights of the trip.
Linking up with Modern Mrs Darcy's Quick Lit.
(Disclosure: this post contains affiliate links. At no extra cost to you a percentage of your purchase will go to support this site.)
  Buy now from Amazon
A Portrait of Emily Price by Katherine Reay
I loved Katherine Reay's first book, Lizzy and Jane.  Her second and third ones not so much.  I found this one to be slow moving.  By the end, I came to appreciate the setting and the plot was satisfying.  I can't say I identified strongly with the characters or it was one of my all-time favorite books.
Emily Price is a professional restorer of art on assignment in Atlanta.  She meets Joseph and his brother, Ben, Italian natives that have family in Atlanta.  Emily discovers Ben and Joseph's family differs quite a bit from her own and long buried family secrets are revealed.
  Buy now from Amazon
The Hardest Peace by Kara Tippetts
Kara's bravery in the face of her own mortality is inspiring.
It's hard for young children to lose their mother to cancer.  It feels unjust.  But, Kara's acceptance of God's will for her life showed the world what it means to believe that God is good, even when it doesn't feel like it.
She faced the reality that her marriage wasn't eternal.
I highly recommend this book to anyone struggling with God's sovereignty.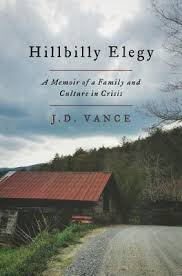 Buy now from Amazon
Hillbilly Elegy by J.D. Vance
The only thing I didn't like about this book was gratuitous language.  Sometimes language in a dialogue can prove a point, but there's no good reason for it to be in the narrative.
That being said, I love the social analysis wrapped around a boot-strapping overcomer's story. J.D. Vance emerged from an impoverished childhood to graduated from Harvard and become a successful lawyer.
It has some similarities to Ben Carson's story in Gifted Hands.
I love the positive impact and stability the author's grandparents brought to his life.
My heart breaks for the young people in this country, especially for the homes that so many grow up in–for the poverty–not of money so much as love, stability, education and faith.
One thing that struck me is that the author wasn't able to find much help in counseling, but research, learning and understanding about himself and his formative years brought a measure of peace.
 Buy now from Amazon
An Invisible Thread by Laura Schroff and Alex Tresniowski
"The true story of an 11-year-old panhandler, a busy sales executive, and an unlikely meeting with destiny."
An inspiring story, well told.
An Invisible Thread is a story that I've been wanting to read for a long time.   This is another book that made me get philosophical.  The culture of poverty at work again.  And, once again, it's not so much about the money.  It's the opportunities, the education, even the relationships that are poor.  And that plays out into material lack.  The whole mindset has to change.  The way you believe about yourself has to change.  The way you believe about your destiny has to change:  are you a victim of your circumstances or do you control your fate?
Laura Schroff reached out to Maurice in a gesture of friendship and began a relationship that endured three decades.  She nurtured her unexpressed maternal instinct.  He grabbed a lifeline out of a culture of poverty. It's interesting that one thing read more
  Buy now from Amazon
The Girl with No Name by Diney Costeloe
Lisa Becker was a German Jew escaping Hitler's regime seeming sanctuary in England.  Torn from her family at age 14, the struggle to love trust and suffer loss follows her.  She faces the uncertainty of life during war time.
I liked this book.  It made me wonder about how we deal with loss, especially how children deal with loss.  Although a work of fiction, it highlighted the heroism and sacrifice of the British people during World War II.
Strangers giving homes to children is a beautiful thing.  What makes a community?  What makes a family? My mind always strays to the philosophical.
Highly recommended.
   Buy now from Amazon
Hashimoto's Thyroiditis by Izabella Wentz
This is a very through tome.  And although it 's written conversationally for laymen, there are parts that made my eyes glaze over.
Have read a lot of Izabella's articles on the internet and implementing her advice, based on my experience and her recommendations, I suggest these first steps:
Eliminate gluten.  This has been found to benefit a high percentage of Hashimoto's sufferers.  It has certainly helped me.
Take selenium supplements.  Start with 200 mpg and work up to 400 mpg.  Take on an empty stomach paired with Vitamin E for best absorption. I'm taking quite a few supplements and I'm convinced that this one is helping the most.
Buy the book.  Yes, this is a shameless plug.  Brain fog, short term memory loss and difficulty focusing and concentrating are symptoms of Hashimoto's, so you might need to read more                                                                                                                                                  What are you reading this month?